He was a kind, gentle, spiritual and pastoral man who did a great deal for the diocese and the province. May he rest in peace and rise in glory as a good and faithful servant.
John Clark, Chair of JEMT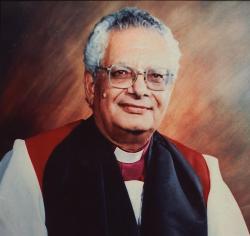 ---
Archbishop Mouneer Anis shared this obituary:
"Let the words of my mouth, and the meditation of my heart, be acceptable in thy sight, O LORD, my strength, and my redeemer."
Psalm 19:14
This was the bible verse with which Bishop Ghais started his sermons. He also often used the following verse to remind his Clergy of their duties towards self and others. 
"Keep a close watch on yourself and on the teaching. Persist in this, for by so doing you will save both yourself and your hearers."
1 Timothy 4:16
Bishop Ghais Abdel Malik was born on May 21, 1930 in Port Said, Egypt.  His father died when Bishop Ghais was only a little boy.  He was the 6th born among 9 siblings.  His mother raised all the children in the Christian faith, which resulted in creating an entire family of God fearing children, many of whom grew up becoming priests and elders of all different denominations. 
After finishing his school education in Port Said, he continued his higher education in Cairo where he graduated with a degree in education.  After graduating, he started a job as a lab technician at the Harpur Memorial Anglican Hospital in Old Cairo where he met his future wife, Fawzia Mesak who was also a nurse at the same hospital.  It was there where he received the Lord's calling for the ordained ministry.  He enrolled in the Anglican seminary in Jerusalem in 1960 and returned to Egypt to be ordained deacon at Jesus the Light of the World Church in Old Cairo in 1961.  In 1962 he was ordained priest and became an assistant to Archdeacon Adeeb Shamas in the same church.  In 1965 he became the priest in charge of Jesus the Light of the World Church after Archdeacon Shamas's retirement.  Bishop Ghais married his beloved, Fawzia, on July 23, 1956 and had three children with her, Clair, Awny and Hany. 
Bishop Ghais was ordained Bishop of the Anglican Diocese of Egypt with North Africa and the Horn of Africa in 1984.  He was the first Bishop in that diocese to be elected to that position.  He succeeded Bishop Ishaq Mossad who had been appointed.  In 1996, Bishop Ghais was elected as Primate of the Anglican Province of Jerusalem and the Middle East and he held that position until he retired in 2000.  Then God chose Bishop Mouneer Hanna Anis to become Bishop Ghais's successor and to continue his ministry and vision. In May 2, 2001 Bishop Ghais, along with his holiness Pope Shenouda III, the Coptic Orthodox Pope, received an honorary Doctorate of Divinity degree from The Nashotah House Theological Seminary in Wisconsin, USA.
During his long and rich ministry, Bishop Ghais devoted special attention to the children and youth of the diocese.  In addition to being the director of the Anglican  schools, he started many youth and family ministries in the diocese out of his belief that young people are the future of the church.  He also founded the Anglican hostel for Women College Students which provided much needed shelter and spiritual support for Christian students who came from different parts of Egypt to receive their college education in Cairo.  In 1982, he founded the first Christian school for deaf students in Egypt.   During his time of service, Bishop Ghais ordained more than 20 deacons and priests, many of whom are now important pillars of the diocese.  Bishop Ghais also played a crucial role in establishing a productive dialogue with the leaders of other Christian denominations in Egypt with the goal of becoming one body of Christ.  He also established several community devekioment centers for families, and  nurseries for providing care for children in order to allow their mothers to maintain their employment.  In addition he established a new ministry for refugees to Egypt and a new ministry for prisoners inside Egyptian jails.
Bishop Ghais will always be remembered as a faithful man of God known for his loving and kind spirit. 
" And when his time of service was completed, he went to his home."
Luke 1:23
---
Dear brothers and sisters,
It is with a heavy heart that I share with you the news of the passing away of our beloved father in God, Bishop Ghais Malek this morning Wednesday the 2nd of March.
During his last two months he suffered from pneumonia, a minor stroke and other complications.  He was admitted to  several times into different hospitals. 
Bishop Ghais was known for his compassionate pastoral care, servant leadership and love for all.  He will always be remembered as a faithful man of God who revived the Episcopal Anglican Diocese of Egypt with North Africa and the Horn of Africa which he led from 1984 to 2000.
He promoted the community development services within the diocese as well as educational and health services.  He worked hard to strengthen our ecumenical relations and initiated our interfaith dialogue with Al-Azhar in 1999 with the then Archbishop of Canterbury, George Carey.
He was a continuous source of encouragement to me personally and my family before and after he consecrated me as his successor.
Please pray for us, his family and the whole diocese to cope with this great loss.  The funeral will take place at All Saints Cathedral on Saturday the 5th of March at 1:00 pm.
Yours sincerely,
Mouneer Anis
The Most Rev. Dr. Mouneer Hanna Anis
Archbishop Mouneer Anis