Everyday Conversations with Matthew
John Holdsworth
London: SCMP, 2019
<<< BUY from Amazon using this link and raise money for JMECA>>>
Review by Simon Foster, Rector (retired) St John's of Lattingtown Episcopal Church, Long Island, New York
The Ven Dr John Holdsworth has until recently been Archdeacon in Cyprus and Chaplain to St Helen's Church, Larnaca. This book, he writes, 'maintains my passion for a means of communicating Bible content that speaks to real situations in our world'. It has eight chapters after the introduction and with a comprehensive biblical reference index and bibliography. It is structured around and 'reflects conversations that have actually happened as Dr Holdsworth tried to imagine the kind of people who might benefit from trying to talk with Matthew today'. These people include someone struggling with why Jesus had to die, a depressed minister, a wrestler with what truth is and someone wondering where young Christians get their passion for social justice from. The text revolves around these imaginary conversations, with subsequent sections for readers 'to do' after reflecting further on Matthew and John Holdsworth's own scholarly reflections.
The writer shows great skill and genius in being able to bring together a vast cross-section of writers and scholars. He teases out their differences and relevance in an accessible way and relates them succinctly to the task in hand. The Greek and Hebrew translations of words and their nuances along with Matthew's reliance on Isaiah, Old Testament allusions and the use of metaphor - as well as the Matthean early church milieu - are all borne in mind. Holdsworth admits too of the 'limits of scholarship' on the use of the term 'Son of Man' and the presence of ambiguity in the Matthean text.
This book would be an ideal Lent, Advent or Adult Continuing Education book and could be used flexibly and selectively. It would make a great text for any individual who wants to get to grips with Matthew at their own pace in private study and meditation. It also stands with other classic bible commentaries which the theology and Bible student as well as the preacher could go to for refreshment and inspiration.
In terms of style, some readers may find the frequent in-breaking of imaginary conversations and things 'to do' both frustrating and a detraction from a great core commentary and scholarly bringing together that Holdsworth does throughout. However, others may feel that such a style is a great user-friendly asset. It is after all to be a conversation linking the Matthean text to the everyday. Whoever the individual reader, this is a great book that the serious (in the best sense) bible lover will do well to have and a text that that they will go to again and again.
It is a given I am sure with Holdsworth, but it would have been good to see something more about how we all bring our own hermeneutic and interpretation to the biblical text, and about how, though important, insightful and relevant, these are at best partial. A Gospel in the end is part of the mystery of 'divine communication' and human and community encounter. The reader sitting on their own with no commentary or book of imaginary conversations and just reading Matthew for themselves, open and open minded, could bring the reader to silence, insight and social action before and under the Mystery, 'in whom we all live, move and have our being'. St Thomas Aquinas reminds us all that our human knowledge and insight can be as straw before encounter with the Divine 'Communicator'. The Bible and the Gospels are interpretations, as are the words we say and write about them. The 'Hound of Heaven' is always in hot pursuit but before and after all the words, openness and silence surely have a key part to play in understanding we are dealing with the sacred, numinous, the Living Word and the Divine Mystery. In that sense, Holdsworth's point 'that we are entitled to ask of the Gospel, as we engage with it, the kind of questions we might ask in a book club' needs always to be seen in the bigger theological frame.
About the Author: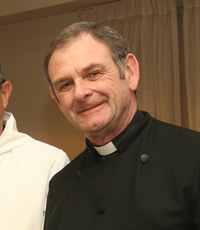 Ven John Holdsworth was recently given an honorary degree of Doctor of Divinity at a graduation ceremony of Queen's College, Newfoundland. The event took place at the Church of St Mary in the capital, St. John's on April 30th. Queen's College is a partner in the Diocese of Cyprus and the Gulf Ministry project and accredits the diocesan ministerial training courses. Dr Holdsworth is now honorary Director of Ministry for Cyprus and the Gulf. He is also author of the SCM Study Guide to the Old Testament (2005), Conversations with the New Testament (2014) and Conversations with the Old Testament (2016), all from SCM Press.