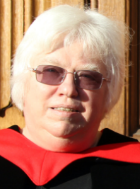 Dr Clare Amos is a Director and Trustee for The Jerusalem and the Middle East Church Association. She has recently retired from the staff of the World Council of Churches where she was responsible for the WCC's programme for interreligious dialogue, with a particular focus on relations with Judaism and Islam. Prior to starting work at the World Council of Churches in 2011, Clare worked for 10 years for the Anglican Communion Office taking charge of work in theological education and interreligious concerns.
Clare is a biblical scholar by background and her long standing involvement with the Middle East began in 1973, when she went to Jerusalem to study for two years at the Dominican Ecole Biblique in the city. In 1975 she was thrilled to be offered the position of Course Director at St George's College (linked to the Anglican Cathedral). On her marriage in 1978 she moved to Beirut, Lebanon, where she spent nearly five years - supporting her husband's work as Anglican chaplain in the city and lecturing at the Near East School of Theology.
In recent years, her work at the World Council of Churches and the Anglican Communion has meant that she has visited the Middle East regularly - apart from Jerusalem itself. Recent visits have included Lebanon, Egypt, Iraq, Iran, the UAE, Qatar and Cyprus.
She is the author of "Peace-Ing Together Jerusalem" and was awarded the Lambeth Doctorate in Divinity in 2012 for her work in ecumenical and interreligious encounter.