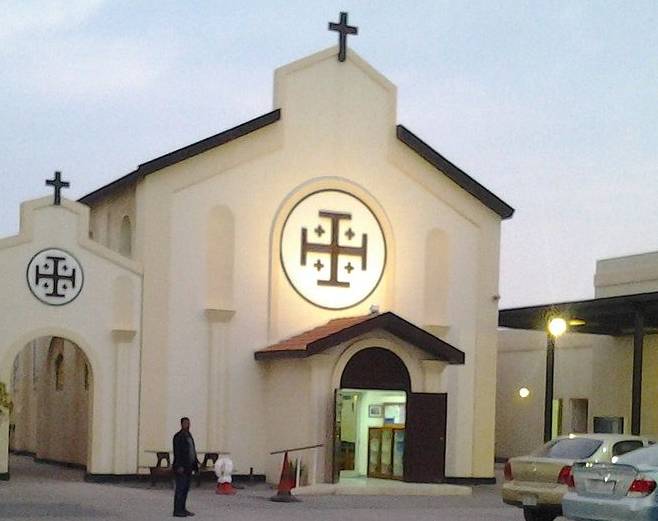 Anglican worship began in Bahrain in the 1930s and residents appreciated visits from a chaplain based in Basra and visits by the Bishop in Jerusalem from those beginning days. St Christopher's is one of the oldest churches in Bahrain, built on land given by the Emir in 1948. It is important to note that the property is owned by JEMT. Because the Diocese of Cyprus and the Gulf covers such a huge area (almost fifteen times the geographical area of the UK), there are two cathedrals, one in Nicosia and one in Bahrain. The bishop has a residence on site which he uses when he is here and visiting other Gulf parishes from Bahrain.
The Anglican community enjoys warm relations with the government and people of Bahrain. As we are in the centre of Manama the cathedral is a place where people of all nationalities passing by at different times during the day stop and say a prayer, including Bahrainis who often use our parking lot to visit the government offices located across the street. Our congregation membership reflects the incredibly diverse demography that makes up the population of Bahrain, including some Bahraini Anglicans among us.
St Christopher's has had a long and admirable partnership with the Bahrain International Seafarers Society, including a half-time Missions to Seafarers chaplain who also serves the cathedral congregation. Fr Stephen Thanapaul has faithfully ministered to seafarers in the ports of Bahrain for more than ten years and is a strong participant in all things ecumenical in Bahrain. BISS is supported by the Christian community as well as commercial entities involved in shipping. Most importantly, the spiritual needs and advocacy on behalf of needy seafarers is quietly, sensitively and successfully managed on a daily basis.
Of course, we who are migrant workers know we are guests in Bahrain. At the same time, we extend hospitality to Christians of other traditions who don't have formal recognition from the government. At present there are forty-two other congregations worshiping in our church and other worship spaces on the St Christopher's compound. The Ethiopian Orthodox congregation worships with us many days of the week, starting at 6am!! Other congregations with traditions from the subcontinent and Africa make the place very busy indeed. Parking is always a challenge. Scheduling any extraordinary events is a juggling act for our administrative team. Nevertheless, both the St Christopher's congregation and those who make up the St Christopher's community all know that working together in harmony is part of our calling to find and bear witness to unity in our diverse backgrounds, traditions and worship needs.
All of this is possible because over the years additional buildings and facilities have been added to the compound. The various worship rooms of different sizes facilitate worship in many languages. We have very recently achieved planning permission to dismantle a long-standing temporary portacabin and build a two-storey addition behind the cathedral sanctuary. It will provide more worship space, a room for children's education and activity, a meeting room for committees, storage space for the needs of the many congregations, and more. (For those who may feel moved to help, it is good to say we have raised about 75% of the construction cost locally, with some help from the JEMT trustees….) We are excited about the way this increased space will allow us to enhance the spiritual life of many congregations.