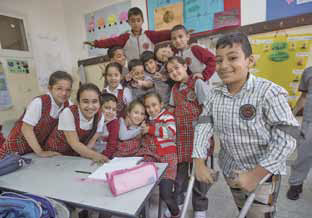 Established in 1965, the Jerusalem Princess Basma Centre (JPBC) located on Jerusalem's Mount of Olives, is a charitable, non-governmental, non-profit organization entrusted under the Anglican Episcopal Church within the Diocese of Jerusalem.
We continue to work hard to expand our services and improve the quality of life and the futures of children with disabilities living in Palestine.
The children that receive services are those with Cerebral Palsy, Neuromuscular Diseases, Pediatric Limb Deficiencies, Congenital Malformations, Post Musculoskeletal Traumas, Neurodevelopmental Disorders and Communicative Disorders including Autism Spectrum Disorder and ADHD. Children living in the West Bank and Gaza lack easy access to the centre and are entered into a comprehensive inpatient programme. As part of this intensive 2-3-week programme, children are provided with treatments which are supplemented by a 'Mother's Empowerment Programme' designed to train mothers in home therapy techniques as well as providing psycho-social support and education; and in 2017, 28 clinical students from Palestinian Universities took part in the clinical training program.
Although we face many challenges today, we remain committed to our mission to empower children with disabilities and integrate their families into their communities.