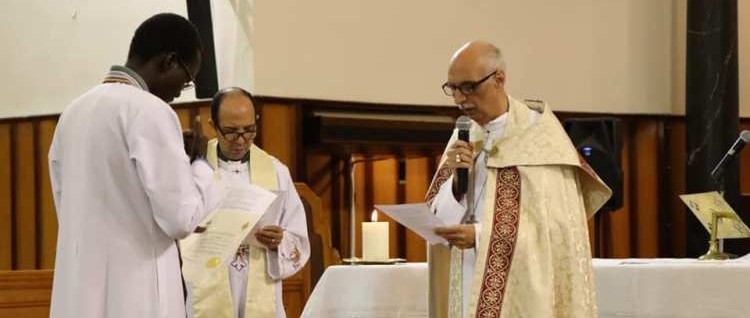 Since the formation of the new province, Dr. Samy Fawzy, Archbishop of the Episcopal/Anglican Province of Alexandria, has been forming the structure that will robustly support the four dioceses. Sunday 14th November marked another step towards this goal when he assigned the Rev. Jeremiah Paul to serve as head of the priests and the assistant bishop in the Diocese of Gambella at the Cathedral of All Saints in Zamalek.
In the homily, the Archbishop said that Reverend Jeremiah Paul is the first Archdeacon in Gambella, which is one of the new dioceses in the Alexandria region. The diocese covers a very large area and includes 150 churches that are served by 29 priests that will sit under the supervision of the leadership committee headed by the Archdeacon Jeremiah. He called on the new Archdeacon to be a 'devoted servant':
The Lord asks us to be devoted servants with a full heart, not for a job or money, but for the sake of sacrifice and giving.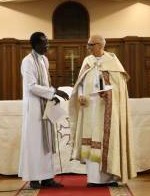 Reverend Jeremiah Paul was born into a Christian family in Gambella in 1977. He started his church service early, being consecrated as a secular servant in the Anglican Church of St. Luke in Gambella in 2003. St Luke's was the first church established in Gambella in 1996. In the year following his consecration he attained the rank of deacon and served for four years.
In 2005, Jeremiah began teaching the clergy the Bible and continued until 2011 when he began studying at the Alexandria School of Theology in Cairo, where he obtained a Bachelor of Theological Sciences. During those years he spent in Egypt, he prayed as a priest in the Sudanese service at the All Saints Cathedral in Cairo and worked as a spiritual administrator for the refugee service in the church.
After graduating in 2015, Pastor Jeremiah returned to his country where he began working as a lecturer at a newly established Anglican Theological Seminary known as St. Frumantius.
---
The Cathedral of the Good Shepherd will be at the centre of local Christian education and offering a warm welcome all tribes living in this region; a focus of unity among all the congregations.