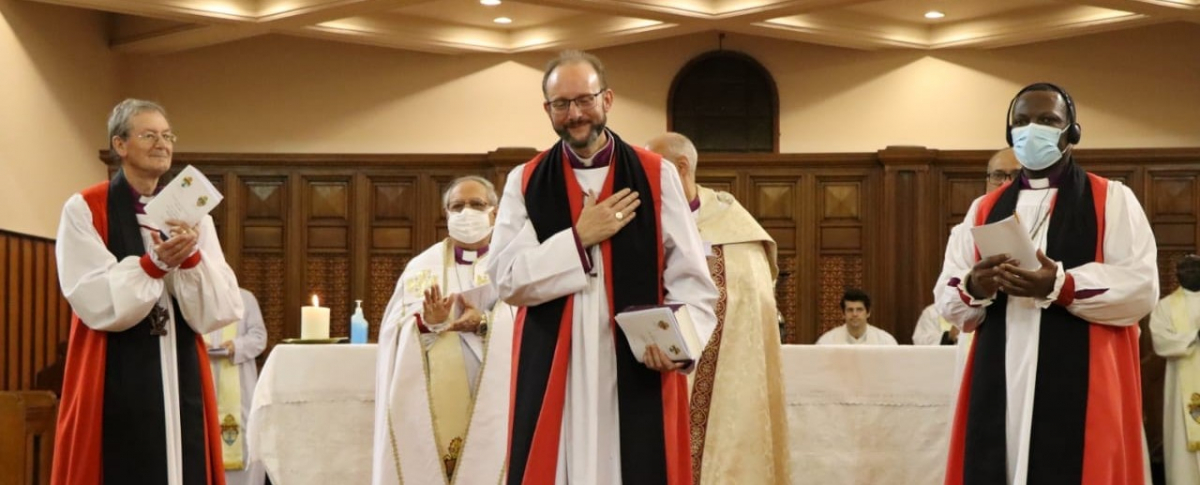 The Ordination of Assistant Bishop Anthony Ball took place in the All Saints Cathedral, Zamalec where he made pledges to the Archbishop to serve as assistant bishop in the Province of Alexandria
Dr. Samy Fawzy, Archbishop of Alexandria Province of the Episcopal/Anglican Church, read the prayers of the Consecration Service. The elected Bishop, Anthony Ball, knelt and the Archbishop prayed, saying:
Send your Holy Spirit upon your servant Anthony who will serve as a bishop in your church, almighty Father with your spirit, fill this servant of yours with the grace and strength that you have bestowed upon your apostles ... Help him to be a true shepherd who sustains and leads your flock to proclaim the emaciation of salvation in the world.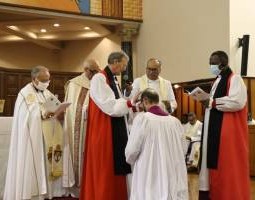 In response Bishop Anthony Ball prayed kneeling:
I am not for myself but for you, put me where you want and with whom you want, consecrate me to service and return me to pain, make me a worker for you and a separate for you.
Honorary Archbishop Mouneer Hanna was also in attendance and presented to Bishop Anthony Ball the Bible as a sign of the authority granted to him on this day to build the Church of Christ, then paint it with holy oil and wear it as the bishops' uniform.
Archbishop Samy Fawzy concluded his sermon, in which he recounted the scene of Christ with the disciples on a fishing boat, by addressing Bishop Anthony Ball saying:
It is a new invitation to a new way of life: Be ready for a greater commitment, a greater and deeper relationship with God, and a new life that the Lord has called you to build in the province of Alexandria
The Alexandria Province of the Episcopal/ Anglican Church had previously announced the approval of the Executive Committee of the region as well as the Diocese of Egypt to appoint the British Anthony Ball as an assistant bishop to Dr. Samy Fawzy, Archbishop of the Episcopal/Anglican Province of Alexandria, to assist in the service in the dioceses of Egypt, North Africa, the Horn of Africa and Gambella.
It is worth noting that Canon Anthony Ball graduated from the British University of Durham and later joined the diplomatic corps and worked in foreign positions in the Middle East and Spain, during which time he has ordained a priest, and his last position was in Damascus, where he served as an envoy of the Archbishop of Canterbury to the heads of the Orthodox churches in Syria and Lebanon, in addition to his work at the British Embassy and as an Anglican chaplain.
From there, he moved on to join Archbishop Rowan Williams' staff at Lambeth Palace, where he took charge of advising on ecumenical, religious, and international relations and is currently head of St Margaret's Church.