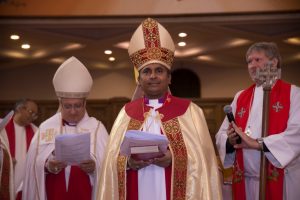 Rajan Jacob, who was the Archdeacon of Gambella, was consecrated in All Saints Cathedral, Cairo, on 11 September by the Archbishop of Jerusalem and the Middle East, Suheil Dawani.  
His appointment is to serve the rapidly growing churches in the Gambella region of Ethiopia and he has been given the important task of training up Christian leaders as his top priority.
the mission for which God [has] chosen you is to build His kingdom in Gambella. This will require that your priority is to develop local leaders to take over the responsibilities from you. Count it a great joy when you leave behind local leaders who continue the work you have begun.
The Bishop of Egypt with North Africa and the Horn of Africa, Dr Mouneer Anis
Along with training leaders, Bishop Rajan's new role will include overseeing community development projects such as a boarding school for girls, a school for the underprivileged, a clean-water project, and small business ventures, as well as continuing to promote peace-building through youth ministry and the Mother's Union.  
A native of India, Bishop Rajan trained for ministry at Tamilnadu Theological Seminary.  Before his ordination, he taught theology and served in the Church of South India for over 20 years. After being ordained in 2015 he became Priest in Charge of Christ the King Anglican Church in Tripoli, Libya.  He was appointed Archdeacon of Gambella, Ethiopia in 2018. The bishop and his wife, Dr Ruby Ebenezar, have two children.
Read full report on the ACNS website
Pictures and report on Diocese of Egypt website