While UK schools reported some 80 to 100 per cent of pupils returning to the classroom last week, SAT-7 is prioritising the 15 million children in the Middle East and North Africa who are denied schooling by poverty, displacement or conflict.
COVID-19 in the region has pushed even more people into poverty, putting more children at risk of losing out on schooling, and the 4 August explosion in Beirut damaged or destroyed 120 Lebanese schools, adding another 55,000 children to the numbers.
"SAT-7 must do its part to make sure these millions of children do not miss out on education. And we are in the perfect position as a trusted media ministry to do so"
SAT-7 ACADEMY Manager, Juliana Sfeir.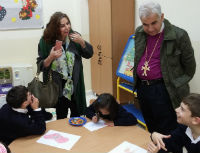 Based in Beirut herself, Sfeir said, "Imagine you are a child in Beirut. Once you went to a school in a city known as an educational and cultural capital. Then your school was closed by COVID-19. As Lebanon fell apart around you and your family was plunged into poverty, you tried to keep up with work. Then came the explosion and your school is destroyed. Where will you turn now?"
Read the full report from SAT-7 here
---
About SAT-7
CHRISTIAN TELEVISION BY AND FOR THE PEOPLE OF THE MIDDLE EAST AND NORTH AFRICA
Based in the Middle East and broadcasting in Arabic, Turkish and Farsi to the 500 million people of the region, SAT-7 is seeking to make the Gospel, the local church, and rights and freedoms visible to the people we serve.
SAT-7 is committed to holistic programming, with the aim of ministering to people in all areas of their life: spiritual, emotional, psychological and physical. We have a long track record in doing this well, producing and broadcasting programmes that have positively impacted lives across the region.