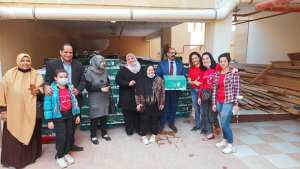 The latest of the initiatives of the "Together we develop Egypt" project in Cairo Governorate, in partnership with the Misr El-Kheir Foundation, has involved local young people in preparing and packing Ramadan cartons in preparation for distribution to needy families in different regions.
This activity is part of the project's initiatives, as 25 Muslim and Christian youth participated in this work, which aims to consolidate the spirit of cooperation and integrate youth in various activities.
The Episcopal/Anglican Church  
The project is being held under the auspices of the Province of Alexandria of the Episcopal/Anglican Church in Egypt, with North Africa, and the Horn of Africa, and the Misr El-Kheir Foundation which is running a set of initiatives and events in the governorates of Cairo, Alexandria, Minya, and the cities of Sadat and Menouf, and Suez aimed at establishing strong and real relationships and friendships between young people from different faith backgrounds and through working together will raise their cultural and civilizational awareness and develop their skills and capabilities. In addition to their personal development the projects they work on will provide practical benefits to their local communities and have a wider impact on cross cultural integration.
The cooperation protocol between the Episcopal/Anglican Church and the Misr El-Kheir Foundation was signed in 2018 and over the years the Together we develop Egypt project has run a wide range of initiatives including cleaning and painting local streets, running literacy classes, developing a mobile library for children and planting trees in a village.