The congregations of the diocese remain among the most isolated in the Anglican Communion. Because of the pandemic it is not possible for visitors to make their way to Iran. The only external contact comes via phone, email and text. All church buildings remain closed so there has been little change in the situation of the three congregations in the cities of Tehran, Isfahan and Shiraz. Anxiety about the virus limits opportunities for meeting socially in private homes. However, maintenance of buildings and grounds remains necessary. Contact continues with government authorities as needed.
Brief reports such as these in Bible Lands are important reminders to those in the country that even if visits are not possible, they are not forgotten. That they are held in people's prayers is much appreciated. Archbishop Michael holds episcopal oversight of the diocese, in the absence of a residential bishop. He intends to visit when opportunity arises.
The pandemic continues to affect many. Official figures in mid-May are that more than 2,750,000 have been infected by the virus, with more than 440,000 active cases. Daily peaks have reduced from a peak in mid-April but more than 76,000 deaths have been officially reported. International sanctions continue to affect the mass of the population with rising prices for essentials and limited access to many medicines and particularly vaccines.
In our prayers for the diocese and the people of Iran we need to remember all those who name the name of Christ in the country and the growing Iranian Christian diaspora across the world.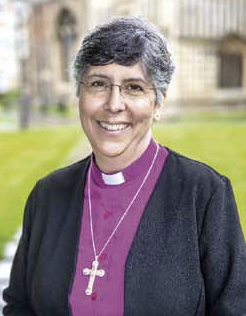 Within the Church of England Iranians and those of Iranian heritage continue to contribute to the work of the Church here. This has most notably been seen since the last Bible Lands in the appointment of Bishop Guli Francis-Dehqani, youngest daughter of the late Bishop Hassan Dehqani-Tafti to the Bishopric of Chelmsford in March. This is a challenging appointment not helped by the limitations caused by the pandemic. Her service of welcome and installation will take place in Chelmsford Cathedral on 4 September. She has also been appointed as the Church of England's Bishop for Housing, part of the response to the report of the Archbishop's Commission for Housing.
Two Iranian clergy were given awards by the Archbishop of Canterbury in his Easter Honours. Both received the Alphege Award for Evangelism and Witness.
• The Revd Bassi Mirzania in Guildford Diocese was recognised for her nearly 20 years' tireless and exceptional service as founding Chaplain to the Persian/Iranian community in Great Britain.
• The Revd Omid Moludy of Manchester Diocese was recognised for the outstanding role that he has played in evangelism and discipleship amongst ethnically diverse communities.
At least three Iranian clergy now have parish incumbencies in England, and more are in training.