From the Reverend Canon Donald D. Binder, PhD, Chaplain to the Anglican Archbishop in Jerusalem
This past March marked the somber one-year anniversary of the COVID-19 pandemic. As with most of the world, the Diocese of Jerusalem suffered mightily through this difficult period, losing beloved parishioners to this deadly virus and enduring intense economic hardship, mostly due to the closure of pilgrim travel to the Holy Land (in 2019, Israel alone registered a record 4.5 million "tourists," most of them Christians; since last March, there have been almost none).
Thankfully, because of Israel's aggressive vaccination programme, the situation is slowly changing. With herd immunity essentially achieved in Jerusalem and Israel proper, most of the local gathering restrictions have been dropped or heavily reduced, although international travel will not open up until May 23rd, after which only completely vaccinated groups will initially be allowed into the country. Because of this success, we were able to fully observe and celebrate Holy Week and Easter this year at St. George's Cathedral and throughout Israel, for which we give God thanks.
The situation has not been nearly as happy, however, in the other parts of the Diocese – the West Bank, Gaza, Jordan, Lebanon, and Syria. There, either because of lack of access or governmental poverty, vaccinations are proceeding at a halting pace, with the more potent variants now ravaging the population. Please keep the people of these regions in your prayers, that neighboring nations will contribute to them from their surplus doses, and other foreign governments and NGOs will help close the yawning immunization gap.
Despite these challenges, the Diocese of Jerusalem, under the leadership of Archbishop Suheil and Bishop Hosam, has persevered in upholding its Christian mission here in the Holy Land. In this, we have been greatly assisted by our international partners and individual donors, who have contributed so generously in helping to keep our hospitals and clinics open, and our schools and rehabilitation centres running. We are most grateful for this sacrificial support, especially during such trying times for us all.
Beyond maintaining our ministries through our institutions, we have also been able to advance our Christian presence in an historic manner. Here, on February 2nd – the Feast of the Presentation – for the first time since the establishment of Israel in 1948, a brand-new Episcopal church was consecrated in the Holy Land: Christ the King Church, Tarshiha, in Upper Galilee, near the Lebanese border. At noon on that day, Archbishop Suheil, Bishop Hosam and diocesan clergy gathered with Fr. Hatim Jiryis and representatives from his congregation for a moving consecration service of their beautiful new building.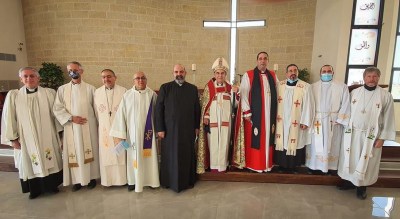 Over the past three years, the parish has partnered with congregations in Switzerland, Germany, and Austria, who have generously contributed towards the construction of the church and its integrated parish hall. Both were built on land donated by the town itself. We congratulate Fr. Hatim and his congregation on this remarkable achievement, even as they press forward with more work (and fundraising) on the church's interior, including the addition of an elevator, in order to meet the requirements for a public occupancy license.
But the Diocese of Jerusalem is not resting on its laurels. By the time you read these words, Fr. Kevin and Mrs. Jennifer Cable should have arrived from England to take charge of reopening St. Peter's Church, Jaffa, a parish closed since 1948. This was the home parish of Archbishop Suheil's family, with his father having served on the vestry until the war that year forced them to flee as refugees.
Although we are still in the process of renovating that historic building, Fr. Kevin and Jen should initially be able to meet for services at a temporary location, serving a ready-made congregation from the diplomatic corps in Tel Aviv, many of whom are members of the Anglican Communion. He will also minister at the nearby port of Ashdod, Israel's largest, through Mission to the Seafarers. Please keep their forthcoming missionary work in your prayers, and consider donating to their support fund through CMS (see previous article in this edition).
All of this expansion finds its context in a period of transition for the Diocese, with Archbishop Suheil retiring on April 23rd after serving as diocesan bishop for fourteen fruitful years. Despite the lingering challenges of the pandemic, he will be turning over to Bishop Hosam a diocese in much better shape than when he first assumed office, having rescued a number of our previously struggling institutions, advanced our women's and youth ministries, widened our spread of international partnerships, and promoted ecumenical and interfaith relationships within a larger ministry of reconciliation to this troubled and divided region.
Together with his wife Shafeeqa – who has lovingly nurtured diocesan women's ministries over the past fourteen years – Archbishop Suheil will continue living in Jerusalem at their private residence about a tenminute drive from St. George's Cathedral. He has pledged his support to Bishop Hosam in any way that his successor desires, as the latter assumes the office of archbishop at his Installation service on Ascension Day.
For his part, Bishop Hosam has asked for your prayers for himself, for his wife Rafa and their three children, and for all the Diocese of Jerusalem as we enter this period of transition, that God will bless our work together in the service of our Lord Jesus Christ here in the Holy Land.